Incentives:
Owners: Proven Thoroughbreds (A Walter), B Playford, F Cook, Mrs C Cook, J Schroder, R Lani, S Aboud, M Patterson, S Guy, L Robins, Mrs J Woodbridge, S Lionel, S Cadzow, D Waugh, R Dawson, Mrs N Ryan, Taormina Lodge (P Gallagher), Gall Bloodstock (B Gall), Pay The Man (G Manning) & Bccn Racing (B Hansberry)
"A half sister to our good filly Gotta Kiss, this filly is bigger and stronger than her sister. And she certainly loses nothing being by I Am Invincible" – Steve O'Dea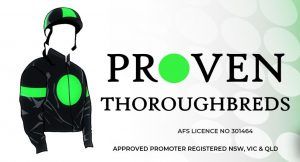 BAY FILLY (AUS)

Foaled 30th August 2018

---

| | | | |
| --- | --- | --- | --- |
| Sire | Invincible Spirit | Green Desert | Danzig |
| I AM INVINCIBLE (AUS) | | Rafha | Kris |
| 2004 | Cannarelle | Canny Lad | Bletchingly |
| | | Countess Pedrille | Zoffany |
| Dam | Strada | Danehill | Danzig |
| SWEET KISS (AUS) | | Shindig | Straight Strike |
| 2010 | Ancient Impulse | Clang | Bellotto |
| | | Ancient Gift | Tolomeo |

---

I AM INVINCIBLE (AUS) (Bay 2004-Stud 2010). 5 wins-1 at 2, SAJC DC McKay S., Gr.3. Leading Sire of 2YOs in Aust. in 2018-19. Sire of 609 rnrs, 461 wnrs, 50 SW, inc. Brazen Beau (VRC Coolmore Stud S., Gr.1), Viddora, I Am a Star, Voodoo Lad, Invincibella, Loving Gaby, Media Sensation, Oohood, Hellbent, Illustrious Lad, Libertini, Invincible Gem, Fiesta, Pure Elation, Miss Leonidas, Look to the Stars, The Justice League, Strasbourg, Santos, etc.

1st dam

Sweet Kiss, by Strada. 4 wins-1 at 2-to 1400m, A$191,560, ATC TAB Place Multi H., Ibis Milano Dinner Specials H., Happy 60th Paul Bignell H., 2d ATC Tab.com.au 2YO H., TAB More Than Winning H., Instagram H., Canterbury Park 2YO H., 3d ATC Inglis Nursery S., RL, Australian Turf Club 2YO H., Well Done 4tracks4kids H., More Than Ready at Vinery H., Australian Turf Club H., 4th ATC Inglis 2YO Classic, RL, Widden S., L. This is her second foal. Dam of one foal to race-

Gotta Kiss (f. by Not a Single Doubt). 2 wins at 2, A$139,550, in 2019-20, BRC Basil Nolan Jr 2YO P., TAB 2YO P., 2d BRC St Ritas College Clayfield 2YO H.

2nd dam

ANCIENT IMPULSE, by Clang. 4 wins at 1200m, 1400m, A$104,500, QTC Tooheys Extra Dry P., 2d QTC Princess S., 3d QTC Lindemans H., BTC Sulo H. Dam of 4 foals, all winners-

Sweet Kiss (Strada). 4 wins. See above.

Four More Millers. 5 wins to 1200m, A$93,215 in Aust.

Final Impulse. Winner at 1100m in Aust.

Finger Onthe Pulse. Winner at 1300m in Aust.

3rd dam

ANCIENT GIFT, by Tolomeo. Placed in Aust. Dam of 10 foals, 8 to race, 6 winners, inc:-

Ancient Impulse. 4 wins. See above.

Ancient Prince. 4 wins-1 at 2-to 1300m, A$100,100, BTC Doomben Horseshoe 2YO H., STC Stylus Bathroom Products H., 2d VATC Jayco Caravans H.

Niagara Kate. 3 wins at 1100m, 1200m, STC Tooheys New Night Racing H., 2KY Racing Radio H., 2d STC Maroubra Women's Auxilary H., 3d STC Masterton Homes H., IATM H.

Ancient Faeroe. 5 wins from 1700m to 1800m, 2d BTC Breakfast Creek Hotel H., QTC Winfreux H.

Under Statement. 2 wins-1 at 2-at 1100m, 1250m in Aust.

Gifts Galore. 2 wins at 1000m in Aust.

Rarullah. Placed in Aust.

4th dam

ANCIENT GLOVE, by Century. Unplaced. Half-sister to SKYJACK. Dam of 13 foals, 12 to race, 8 winners, inc:-

Jubilarian. 10 wins to 1400m, STC Taverners Castle H., 2d QTC Monash H., STC Rider Hunt H.

Magic Maiz. 5 wins to 1100m in Aust. Dam of-

Hampton's Magic. 2 wins at 1000m, 1100m in Aust.

Broadcaster. 5 wins to 1400m in Aust.

I Love Kos. 4 wins from 1100m to 1600m in Aust.

Sharbah. 2 wins at 1000m, 1200m in Aust. Dam of-

Donny's Magic. 3 wins at 1000m, 1200m, BTC Amart All Sports P.

Lord Governor. Winner at 1000m in Aust.

Gloves Off. Winner at 1300m in Aust.

Tribal Relic. Winner at 1200m in Aust.

Miss Tosca. Placed in Aust.

Ancient Gift. See above.

5th dam

FLYING GAUNTLET, by Red Gauntlet. 8 wins-4 at 2-from 5f to 1m, AJC Flight S., Gr.2, June S., L, George Rowe H., Bruce Lowe H., STC Petersham H., Strathfield H., Rydalmere H., City Tatt's RC George Negus S., 2d AJC Champagne S., Gr.1, 3d AJC Princess H., L. Sister to SPARKLING RED, half-sister to FLYING FABLE, Darling Beware (dam of DARLING TAKE CARE). Dam of 9 named foals, 6 to race, 5 winners, inc:-

SKYJACK (Wilkes). 5 wins-2 at 2-from 1000m to 1750m, A$116,262, VRC Sires' Produce S., Gr.1, George Adams H., Gr.1, STC Hill S., Gr.2, VRC Leonard S., FW Hoysted H., 2d QTC Stradbroke H., Gr.1, WATC Winterbottom S., Gr.2, Qld Tatt's RC WJ Healy S., L, 3d STC Golden Slipper S., Gr.1, AJC Epsom H., Gr.1, All-Aged S., Gr.1, STC George Ryder H., Gr.2, WATC Lee Steere S., Gr.2. Sire.

Lloyd's Show - Putera Bandar (Mal.). 3 wins-1 at 2-to 1400m in Aust. and Malaysia, AJC Pharamond S.

Throw the Gauntlet. Unraced. Dam of-

Substance (Scenic). 6 wins to 1400m, SAJC Prettejohns Plants H., Lotteries Commission P., Sedgwick H., Winfreux H., 2d SAJC Best Western H., 3d SAJC Liz Davenport Classic, L, Court Sabre P.H.