Price:$3,159.09 + GST (2.5%)
Incentives: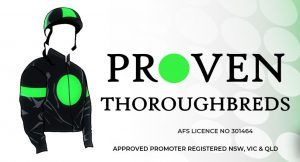 BAY COLT (AUS)

Foaled 25th October 2019

---

| | | | |
| --- | --- | --- | --- |
| Sire | High Chaparral | Sadler's Wells | Northern Dancer |
| DUNDEEL (NZ) | | Kasora | Darshaan |
| 2009 | Stareel | Zabeel | Sir Tristram |
| | | Staring | Fiesta Star |
| Dam | Not a Single Doubt | Redoute's Choice | Danehill |
| ARROWETTE (AUS) | | Singles Bar | Rory's Jester |
| 2008 | Smytzer's Roylani | Royal Academy | Nijinsky |
| | | Paklani | Haulpak |

---

DUNDEEL (NZ) (Bay 2009-Stud 2014). 10 wins-1 at 2, ATC Queen Elizabeth S., Gr.1. Sire of 206 rnrs, 113 wnrs, 13 SW, inc. Yourdeel - Mini Force X (Sing.) (ARC Diamond S., Gr.1), Castelvecchio, Super Seth, Truly Great, Atyaab, Global Exchange - Enjoying (H.K.), Victoria Quay, The Inevitable, Entente, Irukandji, Ain'tnodeeldun, Cutadeel, Transact, SP Atonement, Hit the Shot, Il Affare, Let's Karaka Deel, Profit, Dealmaker, Azaly, Aqueduct, etc.

1st dam

ARROWETTE, by Not a Single Doubt. 5 wins-1 at 2-at 1200m, 1250m, A$178,560, ATC TAB Rewards H., Canterbury Park H., Cellarbrations H., XXXX Gold H., 2d ATC Testa Rossa at Vinery H., Big Sports Breakfast H., Australian Turf Club H.-twice, 3d ATC Kokoda H., Ranvet H., Canterbury Park H., Ranvet Sprint H. Half-sister to JERSEY LILY. This is her fifth foal. Her fourth foal is a 2YO. Dam of two foals to race, inc:-

First Pirouette (f. by Pierro). 2 wins at 1450m, 1600m to 2019-20 in Aust.

2nd dam

SMYTZER'S ROYLANI, by Royal Academy. Unraced. Half-sister to REAL MAK, Filming (dam of OCTAVIA), Sweet Sheila (dam of STELLITE, ZIRCONEUM), Paklani Princess (dam of TRUE VALOUR). Dam of 10 foals, all raced, 9 winners, inc:-

JERSEY LILY (Catbird). 4 wins to 1400m, A$466,580, VRC Maybe Mahal S., L, ATC Wiggle H., L, STC Turner Freeman H., Greys Gum Hotel H., 2d ATC Coolmore Classic, Gr.1, MRC Tristarc S., Gr.2, AJC Miss Comanche H., STC Wicked Energy H., Theraces.com.au H., Grand Pavilion H., 3d AJC Sapphire S., Gr.2, ATC Millie Fox H., Gr.3, AJC Riverview Hotel H., STC Top Cut Steaks H., Freeway Artarmon Hotel H., 4th STC Birthday Card S., Gr.3, AJC Nivison H., L. Producer.

Brunei Tale. 8 wins-1 at 2-to 1400m in Aust. and Malaysia, SAJC Morphettville Junction 2YO P., 2d AJC Tattersall's Club Sprint H., 4th MRC Blue Diamond Preview (c&g), L.

Arrowette. 5 wins. See above.

More Than Royal. 5 wins to 1500m, A$98,370, ATC Betting Auditorium H., Blackwoods H., Clovelly H., 3d STC Freeway Hotel Pool Comp P., ATC Ascot Club H. Producer.

Off and Gone - Asian Citrus (H.K.). 4 wins-1 at 2-to 1250m, A$41,480, HK$2,133,150, STC Parramatta Leagues Club H., HKJC Kent H., Peng Chau H., 2d HKJC Nam Fung H., Oceania H., Fa Hui H., Good Luck H., Sunday Morning Post H., Des Voeux H., 3d STC St Dominic's Homebush West H., HKJC Hyacinth H., Long Valley H., Man Yiu H., Tsoi Tak H.

Eligere. Winner at 1200m, MVRC Strathmore Bendigo Bank P., 2d HKJC Homestead H., 3d HKJC Eagle's Nest H., Yi Tung Shan H.

3rd dam

PAKLANI, by Haulpak. Joint second top filly on The 1989-90 Australasian 2YO Classification. Third top filly on The 1990-91 Australasian 3YO Classification. 8 wins-5 at 2-to 1400m, A$1,040,575, STC Sweet Embrace S., Gr.3, WATC Sir Ernest Lee Steere Classic S., Gr.3, VATC Zeditave S., L, WATC Beach Welter H., Sorcery H., Mistletoe H., Viva H., Million Dollar Thriller S., 2d VATC Oakleigh P., Gr.1, WATC Queen's P., Gr.3, 3d STC Golden Slipper S., Gr.1, MVRC Stanley Wootton S., Gr.3. Sister to STAR SHOT. Dam of 12 foals, 10 to race, 6 winners, inc:-

REAL MAK (Brahms). 6 wins-3 at 2-at 1000m, 1200m, A$228,675, WATC Prince of Wales S., Gr.3, Beaufine S., L, Johnnie Walker H., Ngawyni 2YO H., Rotary Club of Perth Charity Day 2YO H., 2d WATC RS Crawford S., L, 3d WATC Key Business Sprint H., 4th WATC Winterbottom S., Gr.2.

Filming. 4 wins-2 at 2-to 1500m, MRC GT Donoghue H., MVRC Wayne Brittain 2YO H., Business Network Luncheon H., VATC Cardinia 2YO H. Dam of-

OCTAVIA (Holy Roman Emperor). 5 wins at 1200m, A$378,920, MRC WW Cockram S., Gr.3, Kevin Hayes S., L, Daniel McMillan H., MVRC Alternate Railway H., 2d SAJC Proud Miss S., Gr.3, MRC Tip Top Butchers P., Yarra Valley Farms P. Producer.

Sweet Sheila. Unplaced. Dam of-

STELLITE (Fard). 9 wins to 1300m, R676,535, Turffontein Merchants H., Gr.1, Scottsville Kwazulu-Natal Sires 1200 H., Greyville Football H., 2d Newmarket Sentinel Sprint H., Gr.2, Turffontein Wolf Power H., L, Scottsville Kwazulu-Natal Breeders 1600 S., L, 3d Turffontein Pro-Fit H., 4th Scottsville Byerley Turk P., Gr.3.

ZIRCONEUM (Jallad). 4 wins-1 at 2-from 1200m to 2000m, R1,866,550, 88,320Dhs, Greyville Woolavington S., Gr.1, Turffontein Gauteng Fillies Guineas, Gr.2, 2d Greyville Durban July H., Gr.1, Turffontein South African Fillies Classic, Gr.1, Clairwood Thekwini S., Gr.1, Greyville Golden Slipper, Gr.1, Scottsville Strelitzia S., Gr.3, Vaal Racing Association Progress P., 3d Kenilworth Cape Fillies Guineas, Gr.1, Meydan Balanchine S., Gr.3, Turffontein Starling S., L, Spectracare Ltd P., 4th Scottsville Allan Robertson Fillies Championship, Gr.1. Producer.

Plutonium. Unraced. Dam of-

KING NEPTUNE (Cataloochee). 4 wins from 1200m to 1900m, R532,319, Greyville Michaelmas H., L, 2d Clairwood Easter H., L, 3d Greyville Kings Cup, Gr.3, Scottsville Michael Roberts H., L.

Paklani Princess. Unraced. Dam of-

TRUE VALOUR (Honour and Glory). 6 wins from 1200m to 1600m, NZ$128,176, Levin S., L, Manawatu RC Crombie Lockwood H., Noel Eales Memorial H., WRC Speights H., 2d WRC North Island Challenge S.

Disect (Hennessy). Placed at 2 & 3, 2d VATC Debutant S., L, Dismo Australia 2YO P.