Incentives:
"Great value buy being by Queensland's leading stallion out of a mare with a perfect record in the breeding barn. This filly is a good moving, robust filly who I think will really come into her own at three." – Steve O'Dea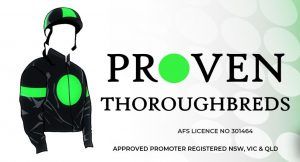 BROWN FILLY (AUS)

Foaled 7th September 2018

---

| | | | |
| --- | --- | --- | --- |
| Sire | Sequalo | Rustic Amber | Thatching |
| SPIRIT OF BOOM (AUS) | | Dash Around | Bending Away |
| 2007 | Temple Spirit | Special Dane | Danehill |
| | | Temple Top | Semipalatinsk |
| Dam | Lonhro | Octagonal | Zabeel |
| CLASSIC GUITAR (AUS) | | Shadea | Straight Strike |
| 2006 | Hot Riff | Palace Music | The Minstrel |
| | | Cerise 'n' Black | Zephyr Bay |

---

SPIRIT OF BOOM (AUS) (Bay 2007-Stud 2014). 9 wins-3 at 2-to 1400m, BRC Doomben Ten Thousand S., Gr.1. Sire of 197 rnrs, 114 wnrs, 11 SW, inc. Boomsara (BRC Vo Rogue P., Gr.3), Spirits Aubeer - The Hulk (H.K.), Outback Barbie, Ef Troop, Champagne Boom, Perudo, Sugar Boom, Frangipani Moon, Heaven's Deal, Jonker, Kinky Boom, SP Boom Daddy, Bribery, Boomstress, Jami Lady, Spirit's Choice and of Boom Spender, Spirit One, Strike, Bold Eos, etc.

1st dam

CLASSIC GUITAR, by Lonhro. 3 wins at 1300m, 1400m, AJC Randwick Betting Auditorium H., 3d STC TLE Castle Hill & Hager Bar & Restaurant H. This is her sixth foal. Her fifth foal is a 2YO. Dam of four foals to race, all winners-

Ryan's Fender (g. by Helmet). 7 wins from 1600m to 2050m, A$325,575, to 2019-20, MVRC Ladbrokes Odds Boost H., MRC Big Screen Company H., VRC Flemington Family Lawn H., MVRC Simpson Construction H., 3d Ballarat TC Suez McKellar Mile.

Zither (f. by Commands). 2 wins at 1000m in Aust.

Azoustic (g. by Zoustar). Winner at 1400m in 2019-20 in Aust.

Hanika (f. by Exceed and Excel). Winner at 1350m in Aust.

2nd dam

HOT RIFF, by Palace Music. 6 wins to 1400m, A$253,820, STC Birthday Card H., L, Scone RC Dark Jewel Classic, L, VATC KP & DC Machinery H., AJC Matador Bullbars H., Geoff Gerard H., VATC George Woodforde H., 2d STC Parramatta Leagues Club Flying Welter H., Young Members H., Canterbury Hurlstone Park RSL Club H., 3d AJC Sapphire S., Gr.3, BTC Glenlogan Park S., L. Half-sister to Barberousse, Camomile (dam of LUCKY WINSTON). Dam of 8 named foals, all raced, 7 winners, inc:-

Hot Seat. 5 wins-1 at 2-at 1000m, 1200m, A$119,380, to 2018-19, MRC Thoroughbred Club H., 2d MRC Le Pine Funerals H., 3d MRC Dream Thoroughbreds H.

Ostinato. 5 wins from 1400m to 1600m, A$82,786, MRC Le Pine Funerals H.

Classic Guitar. 3 wins. See above.

White Room. 2 wins at 1400m, 1450m, 2d STC Tooheys New H., 3d STC Wolf Blass 2YO H.

Passive. 4 wins to 1400m in Philippines.

No Fret. 3 wins from 1200m to 2400m in Aust.

Skim. Winner at 2350m in Aust.

3rd dam

CERISE 'N' BLACK, by Zephyr Bay. 7 wins to 1300m, A$109,085, AJC Peter Lawson H., VATC Hyderabad Race Club H., Florence H., AJC RRSC Fashion H., STC Petersham H., 2d AJC Rosedale Ridge H., STC Lidcombe H., 3d AJC Briell Marketing H., 4th SAJC DC McKay S., Gr.3. Dam of 8 foals, 7 to race, all winners, inc:-

HOT RIFF (Palace Music). 6 wins. See above.

Barberousse (Octagonal). 4 wins from 1300m to 1900m, A$110,900, STC Vodka Mudshake H., NSW Tatt's RC Broadway H., 2d STC Parramatta Cup, L, AJC El Alamein H., 3d AJC Citius H., STC Footy Show H., 4th STC Canterbury Cup, Gr.3, AJC Japan Racing Association P., L, STC Neville Sellwood S., L.

Contrast. 4 wins from 1300m to 1600m, A$118,950, AJC Larch H., STC Bamford Associate Lawyers H., 2d AJC Canon Colours of Christmas H., STC Mounties Group P., Lynch Flowers H., 3d AJC Michael Foulkes H. Producer.

Sharne. Winner at 1300m, QTC Mt Olivet P. Producer.

Murex. Winner at 1650m, BTC Nivea Visage H. Dam of-

Plan Ex (Planchet). 4 wins from 1200m to 1600m, HKJC Golden Years H., 2d Wanganui Guineas, L, Waikato RC Pencarrowstud.co.nz H., Avondale JC Auckland 24hour Glass 2YO H., 3d ARC Mitchelson Cup, HKJC Jebsen Building Products H., Co-Tack H.

Earnest-Amigo (Mac.). Winner at 1500m in Macau, 2d STC Truscott's Toyota H., 3d STC Canterbury Park Function Centre H.

Camomile. Unraced. Dam of-

LUCKY WINSTON (Churchill Downs). 11 wins from 1100m to 1800m in Macau, Macau Directors' Cup, L, Inchon H., David Entertainment H., 2d Macau Winter Trophy, L, 3d Macau Directors' Cup, L, Seoul H., 4th Macau 4YO Prelude, L, Macau Hong Kong Trophy, L.

4th dam

PINK AND BROWN, by Blue and Gold. Winner at 800m in Aust. Dam of 10 foals, 8 to race, 4 winners, inc:-

Glenmurray Rogue. 17 wins-1 at 2-to 1400m, A$172,575, STC Kiandra H., First State H., Milperra RLFC H., 2d AJC Dick Hern H., Rajah H., STC Dow Corning H., BMW Australia Welter H., 3d AJC Jockey Charity Classic Welter H., STC 13 Find H., Canterbury Welter H.

Cerise 'n' Black. 7 wins. See above.